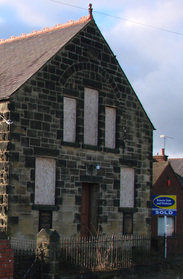 Our desire is to replant Baptist churches in this once great Christian nation through ministry restoration - reviving nearly closed churches (or reopening closed churches) through persistent purposeful outreach and the clear preaching and teaching of God's Word. Currently, only about 5% of the people of Wales attend church of any kind. Many chapels just have a few active members - the vast majority are elderly. Many of these are without a minister to lead them and no vision to the future. Many will close each year. The photo to the right is a closed chapel we drove by daily which was sold in 2013 to be converted into a home - sadly, this is a better outcome from many which will fall into ruins and be demolished. Yet in this post-Christian culture there are opportunities to revive chapels which are in strategic locations in the villages, towns and cities in Wales to again proclaim Christ to those who desperately need to hear the good news of the Gospel!
---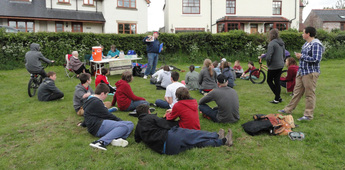 We arrived in Wales in August of 2011 and began working with a veteran missionary couple for two years. During that time our primary focus was to rebuild a teen ministry as well as raise the profile of the chapel in Llay, Wales. The photo to the left is devotion time at our Friday evening youth club we started - Fantastic Fridays. We started with just a few teens and in 2 years we were able to share Christ with over 140 young people. Consistently investing in the youth of Llay was both challenging and rewarding. We learned a lot from the congregation there as well as from our time working with the young people.
---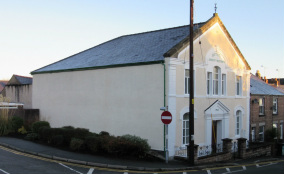 In the fall of 2013 we began the second phase of our ministry in Wales - seeking a ministry to revive. After much searching, Bethel Baptist Chapel in Holywell, Wales asked us to come along side them in January of 2014. This chapel was down to 1-2 people coming each week and the building had been in decline for many years. The Lord is blessing us as we invest ourselves in this town and location! See the
Bethel page
for some pictures of how things have changed in the past year. To God be the Glory!
---